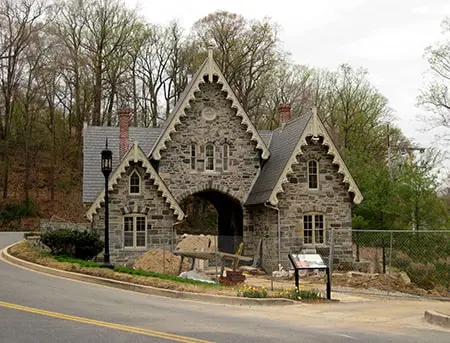 Stone and masonry restoration and repairs is dictated by the methods originally used to construct a building. Methods vary depending on the stone type and size, whether mortar was used, the type of mortar, the interior framing, and conjoining exterior fixtures. Coastal Exteriors can examine exterior stonework and determine which period-accurate method of repair and restoration would best suit a particular structure.
Our stonework restoration and repair services include all stone used in any exterior. Exterior walls, chimneys, pathways, and other elements can all be inspected, serviced, repaired, and restored fully.
Preventing Further Damage
Stone buildings were built to last, and we want to keep them that way. As part of our work, we always inspect and locate the source of any damage to your building. By locating the source, we can prevent and mitigate further damage from jeopardizing your building. This is especially important in historic restorations; a beautifully restored surface means nothing if a leak goes undetected and ruins interior beams a few years later.
By focusing on identifying the source of damage, we're able to ensure our clients are fully protected. Our services related to window caulking, restoring and replacing sealants, and leak detection all help us in this process.
Call Us Today to Learn More
At Coastal Exteriors, our staff is ready and willing to help you restore your building to the way it should be: beautiful, secure, and ready to face future weathering with ease. Our 20+ years of experience, expertise, and full service approach have allowed us to restore dozens of buildings in the Washington, D.C./Maryland area. Contact us to hear how we can help.