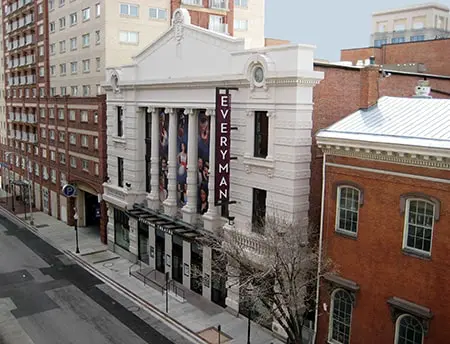 At Coastal Exteriors, our focus is always quality over quantity. As a small firm serving local Maryland and Washington, D.C. clients, we are able to put our full attention into each project and give each building the care it deserves. When you work with Coastal Exteriors, you're working with a staff that truly cares about you and your building. We understand that a school, church, or monument isn't just a roof over your head: it's a symbol that has stood the test of time and served thousands. These structures deserve to be restored.
Many of our projects are on buildings central to their communities. Buildings such as Camden Station, Everyman Theater, and Johns Hopkins' Gilman Hall are iconic. We consider it an honor to have been able to protect and restore these buildings so they can be enjoyed for generations to come.
Between our years of expertise, our willingness to go the extra mile when handling historic restoration, and an owner who is actively involved in all our projects, you can trust Coastal Exteriors to treat your project with the respect it deserves.
Completed Projects
Our clients have included many notable buildings in the Baltimore, DC, and Annapolis area. Here's a sampling of buildings we've worked on to give you an idea of the work we do:
Gilman Hall at Johns Hopkins University
The Lyric Opera House
The Frederick Douglass-Isaac Myers Maritime Park and Museum
McDowell Hall at St. John's College
Miller's Court
Mount Royal Station
Pinkney Hall at St. John's College
St. Mary's Seminary
300 East Fayette Street
The Basilica of the Assumption
Beach Hall at the United States Naval Academy
Bancroft Hall at the United States Naval Academy
Building 58 at the Washington Navy Yard
Camden Station
Carey Hall at Gilman School
Eastern Avenue Pumping Station
Everyman Theater
The First Unitarian Church of Baltimore
The Fox Building at the Maryland Institute College of Art
Christ Lutheran Church
Hebrew Orphan Asylum
Fairmount-Harford School
John Ruhrah School
The Green School
Newcomer Hall @ Maryland School for the Blind
The Parkway Theatre
The Brentwood
Westminster House
Many of these buildings are accessible to the public or can be seen easily from the road. We encourage you to visit them and inspect our work for yourself so you can see the results we get for our customers. You can also see images of some of these buildings in our portfolio section.
We Are Looking Forward to Hearing About Your Project
If you have a building that needs an exterior restoration, call us. All of our methods are up to historic association standards, and our expert staff is always ready to help restore or keep your building safe, sound, and beautiful.